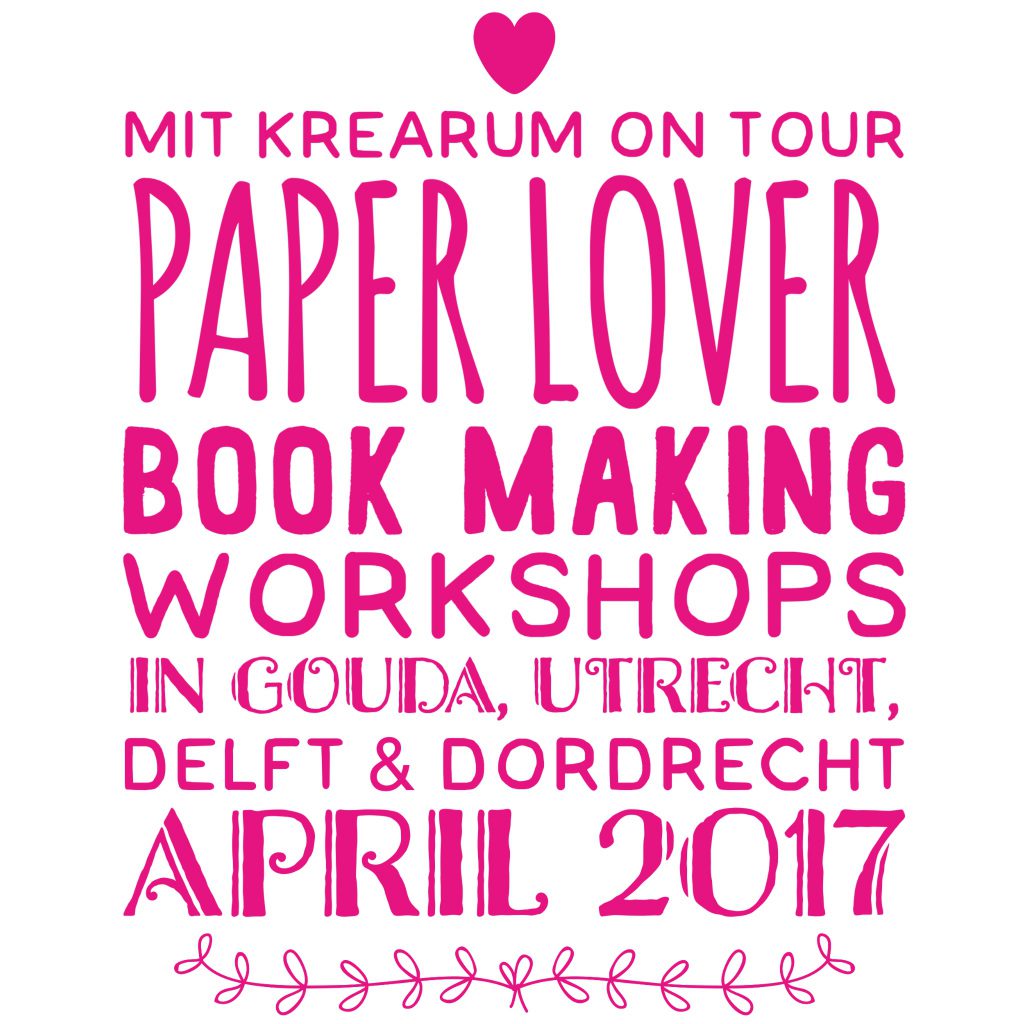 Mit krearum on tour in the Netherlands
I am so happy to announce that I will travel to the The Netherlands in the beginning of April 2017 and host Paper Lover Book Making Workshops in English.
A workshop where I will guide you through all the steps of making your very own unique hand bound book with lots of pretty paper inside.
Make your own book
Do you dream of creating your own inspiration book or notebook? A unique book that no one else has – that totally represents you and everything that you like? A book filled with inspiration, drawings, dreams or secrets that you can spend hours playing with or looking in…?
I teach you how to sew your own personal book in A5 size with all kinds of new and recycled paper, old books, music sheets, magazines, scraps or pretty illustrations.
I promise you that you will bring home your very own unique and special hand bound book, filled with your DNA.
Workshop dates:
Saturday 1st April 2017: In Juffrouw Saartje in GOUDA (10:30-16:30) €89 – SOLD OUT
Sunday 2nd April 2017: In Flow Kas in Snorfabriek in UTRECHT (12:30-16:30) €69 – read more and buy ticket
Saturday 8th April 2017: In Atelier Indrukwekkend in DELFT (10:30-16:30) €89 – read more and buy ticket
Sunday 9th April 2017: In Concept Store DORDRECHT (10:00-16:00) €89 – read more and buy ticket

Please read more about my workshop tour here – or go to my etsy shop to buy your ticket.
Hope to meet a lot of Dutch paper lovers on my tour around the Netherlands.
With love from Denmark, Susanne ♥
More about Susanne from mit krearum:
I am a paper lover, book maker, dreamer and doodler. In 2014 I made 365 mood boards, and in 2015 I made doodles for Flow Weekly for you to color – and I felt totally in love with the Netherlands and the Flow Magazine world. I live in Denmark in a village 40 km's south of Copenhagen with my boyfriend and my flower garden and green house. I work as an activity coordinator at a nursing home – and host a lot of paper lover workshops in the weekends.
I have only been in touch with my creativity for four years. Before that I was working behind a computer and dreaming about living a creative life. Now I live my dream. And all my mood books play a very big role in getting in touch with and unfolding my creative path.
If you want to see more of my creations, please visit mitkrearum on instagram or look at my hashtag gallery #mitkrearumdoodles, #mitkrearumworkshop or #mitkrearummoodbook