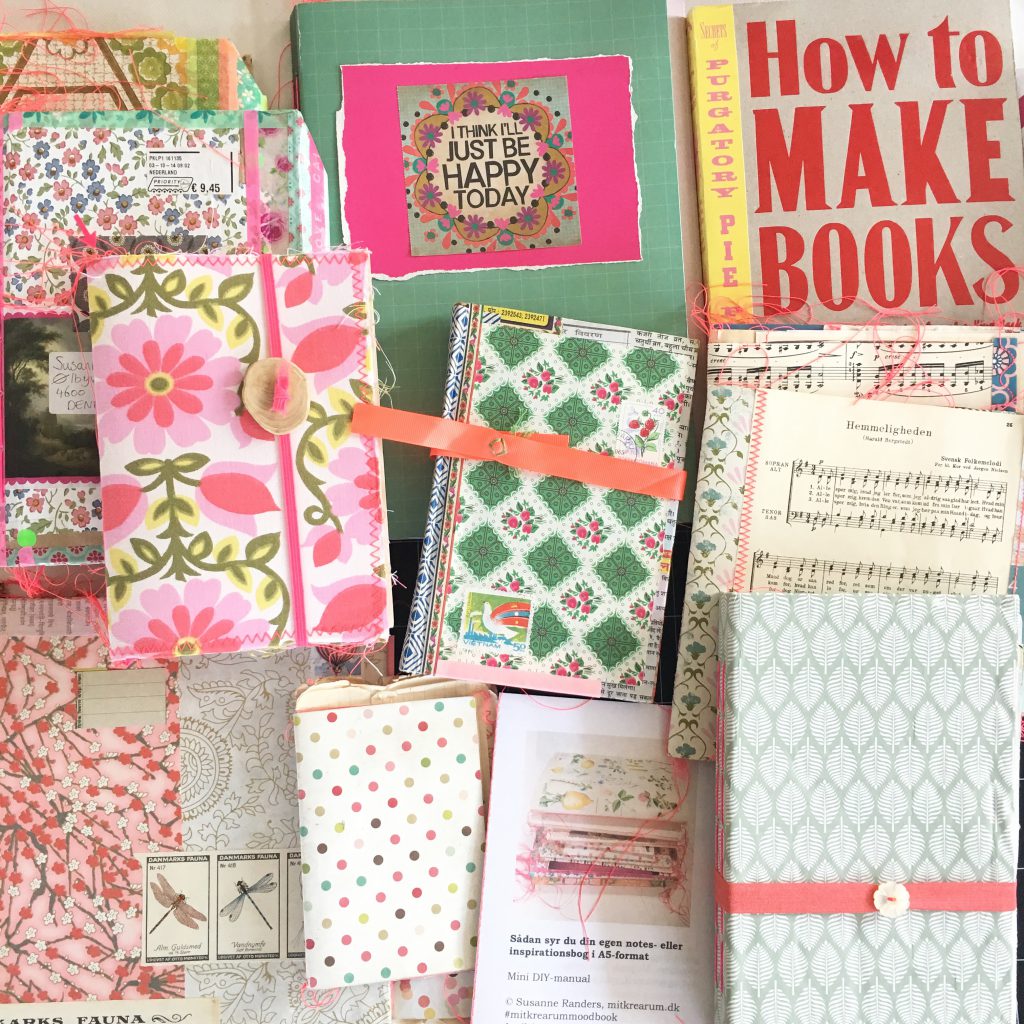 Mit krearum on tour in the Netherlands in April 2017
I am so happy to invite you to "Paper Lover Book Making Workshops" in the Netherlands this April. A workshop where I will guide you through all the steps of making your very own unique hand bound book with lots of pretty paper inside.
I will host four workshops in the beginning of April 2017:
Saturday 1st April: In Juffrouw Saartje in GOUDA (10:30-16:30)
Sunday 2nd April: In Flow Kas in Snorfabriek in UTRECHT (12:30-16:30)
Saturday 8th April: In Atelier Indrukwekkend in DELFT (10:30-16:30)
Sunday 9th April: In Concept Store DORDRECHT (10:00-16:00)
Make your own book
Do you dream of creating your own inspiration book or notebook? A unique book that no one else has – that totally represents you and everything that you like? A book filled with inspiration, drawings, dreams or secrets that you can spend hours playing with or looking in…?
I teach you how to sew your own personal book in A5 size with all kinds of new and recycled paper, old books, music sheets, magazines, scraps or pretty illustrations.
I promise you that you will bring home your very own unique and special hand bound book, filled with your DNA.
A book of its own
I call the books for inspiration books – or mood books. You can also call it a junk journal, a smash book, a scrap book or an art journal.
It's a book to write in, a book to doodle in, a book to glue something inspiring in, a book to travel with – in other words: A book with a very personal story depending on the creator.
For the record, I should mention that it is not a traditional book binding workshop. I sew the books in my own way, giving it a more personal and unique touch – so it's able to grow over time when you stick inspirational things into it…
You can see me flip through one of my own inspiration books on videos here on my gallery #mitkrearummoodbook on Instagram.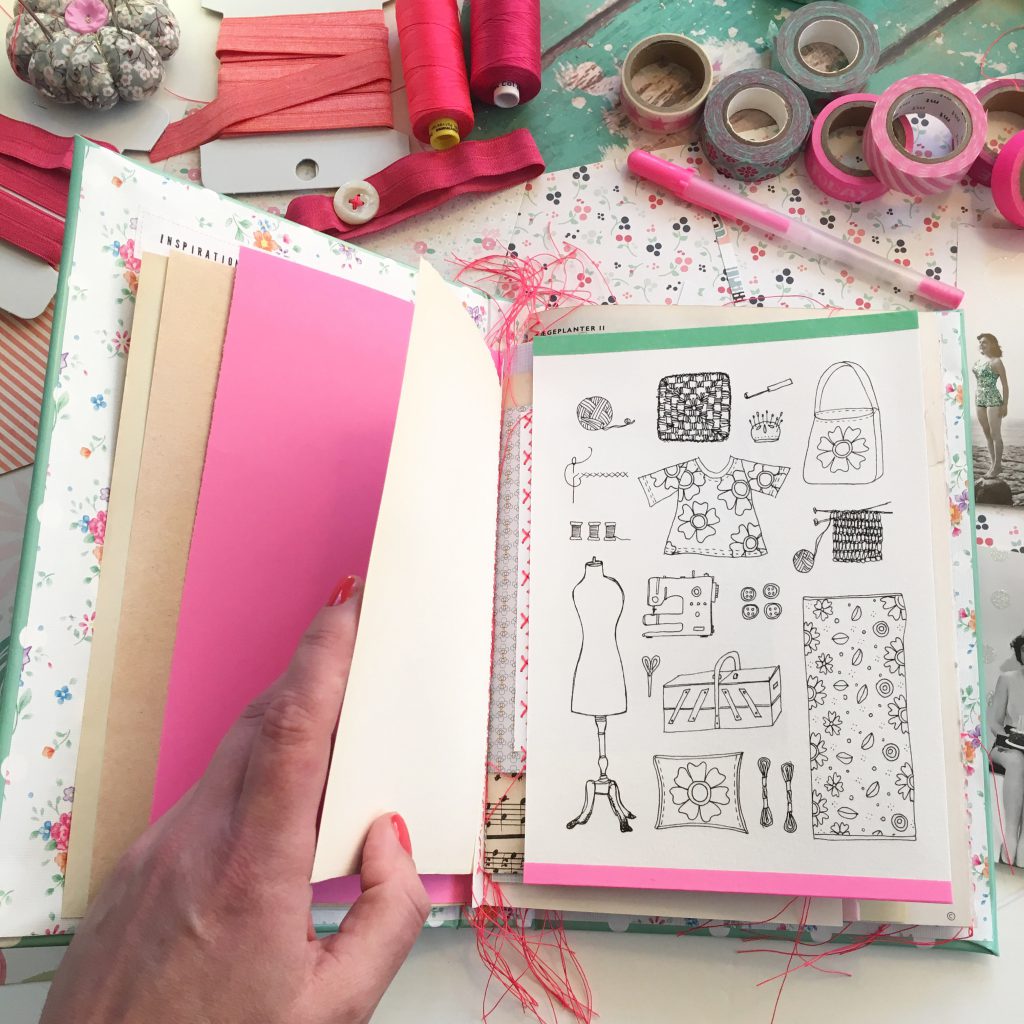 Facts about the workshops
I will bring EVERYTHING for the workshop. You just have to bring yourself – and maybe a friend – and enjoy the creative process together with other paper lovers.
The workshops are spread in four different cities in the Netherlands – and last 6 hours, except the one in Utrecht which only lasts 4 hours due to the opening hours in Snorfabriek.
I will guide you step by step in making your own book. And I will provide you with all the paper and materials you need.
The workshop include:
A step by step DIY guide of how to make your very own book
All materials – and lots of pretty paper
A paper lover goodie bag
6 hour workshop: Lunch, coffee, tea and sweets (in Gouda, Delft, Dordrecht)
4 hour workshop: Coffee, tea and sweets (in Utrecht)
I will bring a lot of my own mood books for your inspiration
All workshops will be in English.
The only thing I ask you to bring is a picture, a post card, a book mark or a fabric you like a lot. Something that will show me what inspires you or what you love. That will be the mood board or color theme for the book you will be making.
YES! I want to join the workshop
The sign up for the workshop is open now via etsy.com/shop/mitkrearum.
The 6 hour workshop in Gouda, Delft and Dordrecht is €89 and the 4 hour workshop in Utrecht is €69.
Workshop dates:
Saturday 1st April 2017: In Juffrouw Saartje in GOUDA (10:30-16:30) €89 – SOLD OUT
Sunday 2nd April 2017: In Flow Kas in Snorfabriek in UTRECHT (12:30-16:30) €69 – buy ticket
Saturday 8th April 2017: In Atelier Indrukwekkend in DELFT (10:30-16:30) €89 – buy ticket
Sunday 9th April 2017: In Concept Store DORDRECHT (10:00-16:00) €89 – buy ticket

On all four workshops you will bring home your very unique book – but as we only have four hours together in Utrecht we will go fast forward in some of the processes that you afterwards can do slowly on your own at home.
The workshop spaces are in different sizes and have room for 8-14 participants. I will do the workshop if I have a minimum of 6 participants. If I have to cancel a workshop you will get a full refund of the workshop price.
If you are not able to pay via etsy it is possible to do a bank transfer to my bank account. In that case you may send me an email on mitkrearum@gmail.com for reserving your ticket – and I will send you my banking information.
I really hope to see you on my tour around the Netherlands – and I promise you an unforgettable day loaded with creative flow.
With love from Denmark, Susanne ♥
More about Susanne from mit krearum
I am a paper lover, book maker, dreamer and doodler. In 2014 I made 365 mood boards, and in 2015 I made doodles for Flow Weekly for you to color – and I felt totally in love with the Netherlands and the Flow Magazine world. I live in Denmark in a village 40 km's south of Copenhagen with my boyfriend and my flower garden and green house. I work as an activity coordinator at a nursing home – and host a lot of paper lover workshops in the weekends.
I have only been in touch with my creativity for four years. Before that I was working behind a computer and dreaming about living a creative life. Now I live my dream. And all my mood books play a very big role in getting in touch with and unfolding my creative path.
If you want to see more of my creations, please visit mitkrearum on instagram or look at my hashtag gallery #mitkrearumdoodles, #mitkrearumworkshop or #mitkrearummoodbook